Which version are you using?

I am not able to repeat your problem. Have you tried at an open space such as outdoor field?
Which platform, iOS? Android?
Platform version?
I see. I tested on iOS 16.1.1 without any problem.
There is another user report on iOS 16.5 location service problem too.
Will need to check if this is iOS 16.5 problem. FYI, location service is not modified at all for the latest update.
Hope it will fixed soon:-(
Sure. Let's see if it's iOS 16.5 problem or not first.
I had this issue today, but using desktop to checkin there is no issue to checkin
Ios 16.5
Latest version M44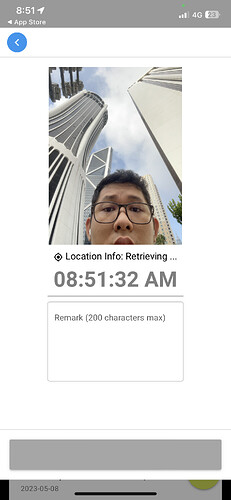 Hi @kapchew Same issue facing to few my staffs using iOS (16.4.1 or 16.5). Cant perform Clock in after update the new version of hr.my app this morning.
Before update the hr.my app is able to log in. After update the hr.my app, the problem occur.
@Aimanaziz @Maylowhr.my This issue seems to affect iOS 16.4 and 16.5 only.
I tested on 16.1.1 and it works properly.
Not sure if it could be fixed from my end, and I am seriously considering discontinuing iOS app now, giving me way too much trouble.
i also had this issue, ios 16.4
Hi Kapchew,
Beforehand i use hr.my M43 version with ios 16.4.1(a) is able to check in and check out, however i saw my team facing issue, and i update the hr.my to M44 and the problem occur, my ios version still remain 16.4.1(a)
Ya, I know. M44 was built with latest Xcode, which forced me to upgrade many dependencies and yet it produced a problematic version with iOS 16.4 and 16.5.
I have problem to clock in and clock out after I update the apps. I'm using iPhone IOS 16.5. The location wrote retrieving and it doesn't show any sign for check in or check out unless I use desktop or laptop.
Can you help me to fix the problem
The latest update from this app makes my account cannot check in. Already restarted and uninstall then install back. And found out that the hr apps cannot detect location and also the apps don't come with location permission . Before the update the apps come with location permission but now dont have. Even at settings also don't have.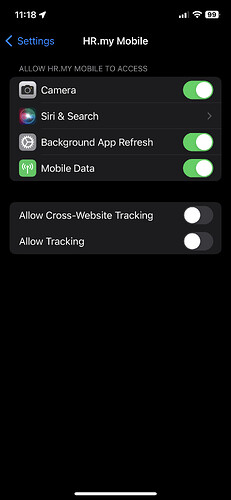 having the same issue, ios 16.4.1(a)
HR.my - M44
possible to rollback to previous version?
I already checked, not possible.